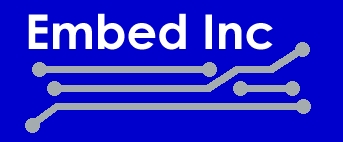 410 Great Road
Littleton, MA 01460
(978) 742-9014

Embed Inc is primarily a consulting company performing electrical, firmware, and software engineering of embedded systems. We specialize in Microchip PIC microcontrollers and the circuits around them. Our capabilities include:
Circuit design, including everything from digital to low level analog to switching power converters.
Firmware development. We have completed over 100 projects with Microchip PIC microcontrollers, and have an extensive library of common subsystems. To facility firmware development we have created our PIC development environment, which is included in our many free downloads.
Board design, including layout, routing, and getting boards fabricated.
Production. We can manage the process of getting prototypes built locally, or getting product produced in volume in overseas factories we have established relationships with.
We are Microchip Design Partner, and have worked on well over 100 projects incorporating Microchip PIC microcontrollers. See us at www.microchip.com/embedinc.

Please call to discuss how we can help with your product development.



While performing various engineering services, we have sometimes identified unmet needs for related products. In response, we have created a few physical products that are sold from our web site and elsewhere.




Various firmware and software subsystems and tools we have developed are available publicly via free download.




Events